High Hang Point
Miniplane Top 80 PSF
Following many customer requests, we now offer the 4 part Rigid Cage also for the L size Miniplane PSF High-Hangpoint Paramotor.
A bigger prop turning more slowly offers good thrust with lower noise. In general, every aspect of performance is improved.
Weight: 42 lbs.
$5750
View Cart
Low Hang Point
Miniplane Top 80 ABM
The new Miniplane ABM (low hang point) Rigid Cage Paramotors - Quieter, more economical, stronger, with the benefits of an airfoil style rigid cage!
The 150cm cage diameter version accommodates a 140cm propeller!
Weight: 45.5 lbs.
$6200

View Cart
Miniplane LR
Fly High - Fly Far!
The Miniplane Long Range project is based on the innovative Rigid 150 Paramotor made by Per Il Volo.
The bigger 140 prop is made possible by a new gearbox with a new reduction ratio that allows the Top 80 engine to use a much longer and wider propeller than ever before!
This machine has better aerodynamic efficiency and gains a significant percentage of thrust both in take-off and at high speed while simultaneously reducing noise.
Now also available with
the SKY 150 Engine!
Miniplane LR
Rigid Cage ABM TOP 80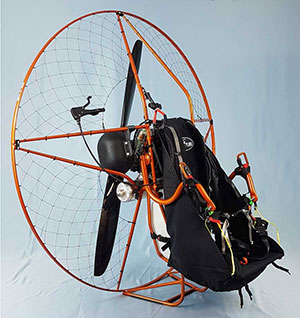 The significant advantage of this machine is better behavior at high altitude as the profile of the propeller maintains excellent performance as the air density decreases.
Fly High, Fly Far with this new incredibly efficient and reliable Miniplane Paramotor!
Now available with a Titanium Cage!!
More Info & Prices