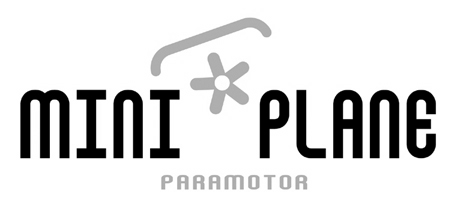 Miniplane Long Range Paramotor

Fly High - Fly Far!

Fly Long Range!!
The MINIPLANE Long Range Paramotor has been designed based on the extensive experience acquired by the company Per Il Volo over the last 30 years as a paramotor manufacturer.
Fly High, Fly Far!

The Miniplane Long Range project is based on the innovative Rigid 150 Paramotor made by Per Il Volo.
Now, our ability to fly higher and farther is made possible with a bigger prop turning more slowly, which offers good thrust with lower noise.
The bigger 140 prop is made possible by a new gearbox and reduction ratio that allows the Top 80 engine to use a much longer and wider propeller than ever before while still staying within the necessary RPM range of the engine.
Available with the standard 12L fuel tank or Long Range 18L tank for even more extended range. There are even murmurs of a massive 22L tank in the works!
See a recent introduction in Gear News by XC Magazine for this new Paramotor: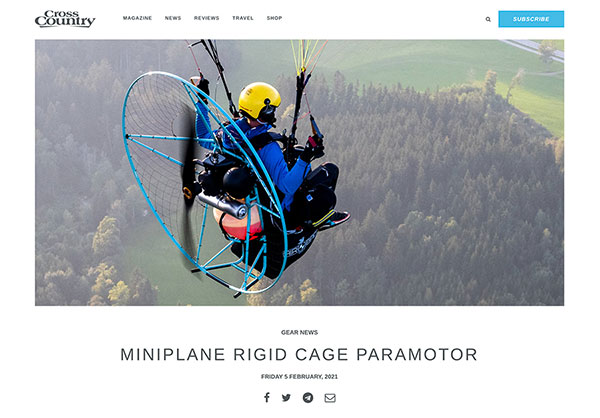 Improvements over the Rigid 150:
New Cage & Frame design as compared to the Rigid 150.
Frame is 16 mm diameter instead of 20mm.
Ring profile is 10x22mm instead of 10x20mm.
Cage sections are the same for 12L and 18L ABM or PSF (diameter is different from 140 to 150).
New "S" arms, with more space for the pilot.
Frame is 2 cm more width on central part, normally will not need a spacer on the ABM for a 80 kg pilot. Spacers are still available (10 or 20mm) for extra-wide pilots.
Now possible to mount a float style carburetor (the same that is used for competition) which gives VERY low fuel consumption.
Entirely made in a CNC molder, so the spare parts will be perfect.
Fast and easy to assemble the cage.
Some improvements on the engine as well (more info soon).
Performance like Never Before!
In general, every aspect of performance is improved. There is better efficiency of the propeller (higher aspect ratio) so more thrust is obtained with less energy consumption. A larger propeller needs adequate protection that is not offered by Miniplane's traditional flexible fiberglass ring cage.
The solution for propeller protection is Miniplane's new cage built with a high strength aluminum drop-shaped aerofoil profile.

The new reduction ratio makes the propeller turn more slowly. Thanks to this increased efficiency, during horizontal flight the noise is greatly reduced making the flight more relaxing for the pilot with less noise disturbance for those who are watching from the ground.
The new lightweight composite Helix prop becomes a necessary and excellent choice for this paramotor, because it is impossible to achieve the same performance with a large wooden propeller.
A further advantage is that the profile used for this carbon fiber propeller keeps performance high even as air density decreases, as it maintains thrust as the height increases. While the Static thrust is increased a bit, the real benefit is the climb rate especially at altitude. Most of this extra performance comes from the longer and wider propeller catching more air outside the disturbed airflow of the pilot.
For the 150cm version the RPM of the propeller is drastically reduced, only 2200 (17/75 Standard Gearbox) RPM at maximum throttle. The result is a smoother, quieter, more efficient flight, not to mention the benefits of a rigid airfoil style cage!
Miniplane LR ABM 150 Rigid Cage: $6400
Massive Long Range!
For pilots wanting the longest range possible, Miniplane now offers the LR with an 18 Liter tank for incredibly long flights - higher and further than ever before!
The efficiency of the Rigid 150 Cage with a 140cm wide paddle propeller and a 12L tank is already amazing, with flight times as long as more than four hours.
Now, with an 18 liter tank, the ability to go higher and further than ever before is a distinct possibility.
Imagine climbing on a calm and smooth day to view the world from 15 thousand feet and cruise to the distant horizon on your amazing flying machine!
This configuration is available on a special order basis, since the 12L tank is more than adequate for most pilots. Please allow 4-6 weeks for an order for this special machine.
Wide Body? Make your Miniplane more comfortable with our ABM Spacers, available in 10 or 20mm sizes.
Miniplane LR ABM 150 Rigid Cage with 18L Tank: $6500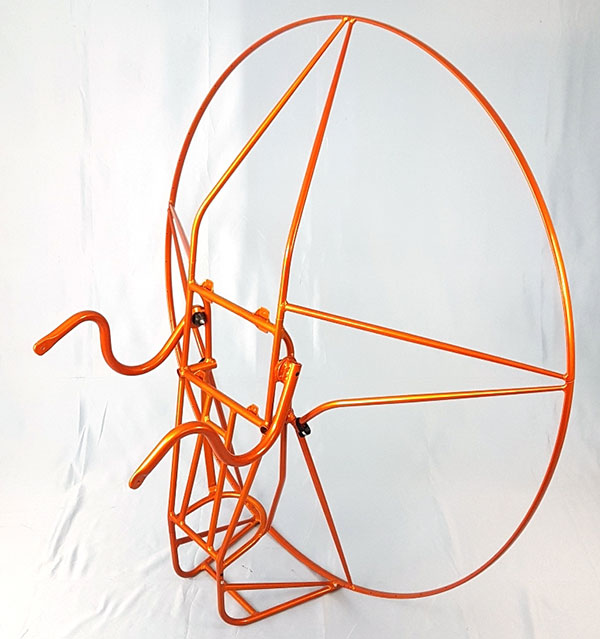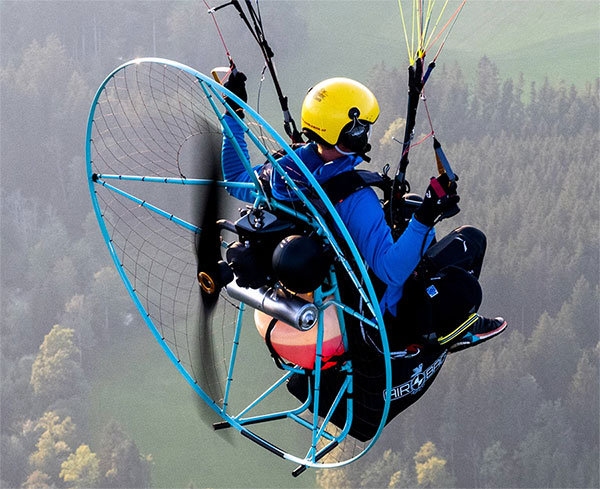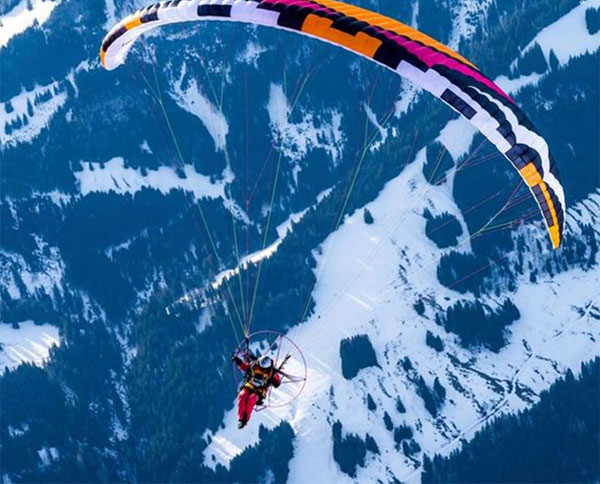 NEW!!!
Miniplane Rigid 150 Cage Bags!
Protect your new Miniplane Rigid 150 Cage Sections with this awesome new bag from Miniplane!
The Rigid Cage Bag is padded, has multiple compartments to protect each section of your cage and zips closed to keep them all tidy while traveling!
Adventure with peace of mind knowing that your precious paramotor sections are protected the best way they can be - with the new Miniplane Rigid 150 Cage Bag!
Miniplane Rigid 150 Cage Bag
$195