The Weatherflow Wind Meter is an anemometer that fits in your pocket. It works with Android and iOS devices like iPhone, iPod Touch and iPads.
A Wind Meter for your Smart Phone!
WeatherFlow is proud to announce the WeatherFlow Wind Meter - it's an anemometer that fits in your pocket. It's the first hardware product we have created for the general wind & weather addicted community. It's compatible with iPhone, iPad, iPod, and all major Android devices.
Download one of our free apps for iOS or Android and plug in your wind meter – it's really that easy. Hold it up high facing into the wind. Your phone does the rest by recording the wind speed (average and gust), wind direction and location. Easily share onsite reports with WeatherFlow, Instagram, Vine, Twitter, SMS, Email, Facebook. And view all of this crowd-sourced weather in one of our consumer applications.
The Wind Meter, although not a scientific instrument, is designed to be better than any other handheld anemometer on the market. It's operating range extends from the smallest puff (2 mph) to well over hurricane force winds (125 mph). Calibrated at the University of Florida's Aerospace Engineering Department, our Wind Meter is accurate to the larger of +/- 0.5% of the reading or 0.2 mph at up to 15° off-axis. That means even if you don't hold it directly into the wind, you'll still get very accurate wind speed information.
Not only do we have one of the most accurate and coolest handheld wind meters on the market, at $34.95 it's also one the most affordable. So what are you waiting for? Get one now!
WeatherFlow Wind Meter
Price: $39.95
includes FREE SHIPPING!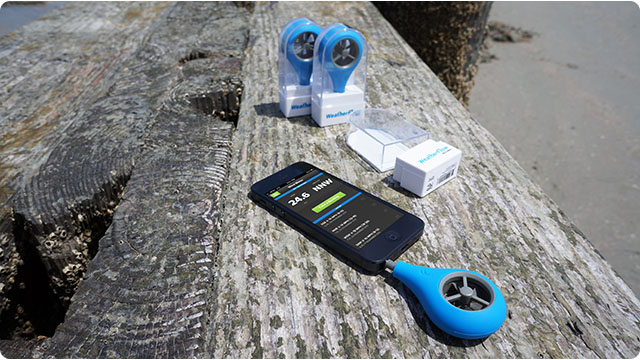 WeatherFlow Wind Meter - an anemometer that fits in your pocket from ikitesurf on Vimeo.
Other Video Links:
https://www.youtube.com/watch?v=Y7T2uUC5L4o
https://www.youtube.com/watch?v=HC4W23rX9ao
https://www.youtube.com/watch?v=ZmtEZoqHqIw
https://www.youtube.com/watch?v=wtp_ttT7p_o
Dealer Inquiries Invited - email info@miniplane-usa.com
WindAlert
WindAlert is the first of WeatherFlow's applications to be run by WeatherFlow's Weather Engine. WindAlert offers a multitude of features in several platforms including
Web
,
iPhone/iPad
, and
Android
applications. Each application offers a powerful FREE service level with additional premium content available for minimal membership fees in the Plus, Pro levels.Features Include:
Global observations from over 50,000 stations.
Point Forecasts for any point on the globe.
Customized Alerts available for real time obs OR forecasted speeds sent to text, email, iphone, Android, etc.
Forecast maps including our exclusive WRAMS model outputs.
Custom profiles built and shared between users that can include obs and forecast maps, tables, graphs, etc…. resulting in a completely tailored "wind profile" for your area.
Share your profiles with friends or browse other's profiles to see what they find valuable in making their wind related decisions.
Precision Graphs, forecast tables, nearby tides, Wind Statistics, and Archived data.
Nautical Charts
Radar
Sea Surface Temperatures
Satellite
Offsite "widgets" enabling anyone to place our content onto their webpages.
and more!
WindAlert applications are constantly being updated with new features. You can keep up with all the latest by subscribing to the WindAlert Newsletter.