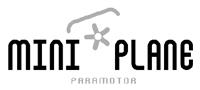 Miniplane-USA Dealer Network
Miniplane Paramotors are some of the best Powered Paragliders on the market today! They are lightweight, reliable, powerful and easy to work on. The Top 80 engine has been the standard of the industry for many years now, and pilots around the world enjoy the friendly skies every day with this incredible paramotor.
With the new Minari and Moster engines, heavier pilots and Tandem Instructors can now enjoy Miniplane's signature ABM (Low-Hangpoint) Harness setup with Weight-Shift. Both of these styles are fully supported here in the USA for parts and service by Miniplane-USA's network of Dealers.
You really have to try these fine machines to understand what their well-loved reputation is all about. Contact us to find a Dealer near you for a Demonstration Flight or to discuss getting involved in the incredible sport of Powered Paragliding and Paramotoring.
Below you will find a US map of Miniplane, TrikeBuggy and American Paragliding Dealers across the United States. Most are USPPA Certified Instructors and are familiar with our product line. They will be your best source for learning, setup, parts and support for the paramotors, trikes, gliders and other products we offer.
If you are interested in our products or learning to fly, please send us an Email with these items so we can better help you with a recommendation for both gear and Dealer support:
Where you are located.
How much you weigh.
Altitude where you will be flying most of the time.
Flying style that interests you most.
Gear you are drawn towards - Paramotor, Glider, Trikes etc.
Your age and physical ability or limitations.

We look forward to hearing from you soon!
Interested in becoming a Miniplane Dealer?