Miniplane Windsock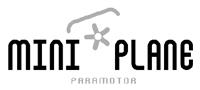 Miniplane Paramotor Windsock, Yellow
See the wind direction clearly and easily now, with our Miniplane Paramotor Wind Sock!
They have finally arrived - our own Miniplane Paramotor Wind Socks! These BRIGHT yellow wind socks are unique and very easy to see from a distance.
The opening is held open with a circular stiffener so the air can always catch it easily, and the "tails" are quite long, which makes it quite easy to see the wind direction. It also has a fishing swivel on the end of the strings so it won't tangle.
The Miniplane logo is clearly screenprinted onto the wind sock, so your friends can easily see what brand of Paramotor you are flying!
Miniplame Wind Sock $18 - with FREE SHIPPING in the USA!!

Miniplane Flagpole for Paramotor Windsock
Fly your Miniplane Paramotor Wind Sock high above your runway with this great Flagpole!
5 meter (16.4 foot) telescoping flagpole for windsocks. Purpose built for PPG and other flying sports- not a fishing pole!
Exceptional quality telescopic pole with some flexibility for those windy days. Stores easily and compact at only 1 meter (39") in size!
Extends to the same height that your glider will be flying for takeoff and landing so you know what the wind is really doing at that height.
Large size tip, very strong
Each section has a steel ring at the top for added strength
1 meter length when collapsed
5 meter length when extended
Miniplane Flag Pole, Extendable $42 - with FREE SHIPPING in the USA!!