Miniplane Windsock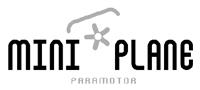 Miniplane Paramotor Windsock
See the wind direction clearly and easily now, with the Miniplane Paramotor Wind Sock!
They have finally arrived - Miniplane Paramotor Wind Socks! These BRIGHT wind socks are unique and very easy to see from a distance.
The opening is held open with a circular stiffener so the air can always catch it easily, and the windsock is quite long, which makes it quite easy to see the wind direction.
The Miniplane and Top 80 Engine logos are clearly screenprinted onto the wind sock, so your friends can easily see what brand of Paramotor you are flying!
Length: 1 meter
Diameter: 20cm
Miniplane Wind Sock $30 - FREE Shipping!