Miniplane Accessories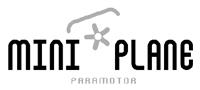 Some Favorites:
Front Reserve
The super light Miniplane Front Reserve is the perfect addition to the Miniplane Paramotor.
Simply clip the attachment bridle to your carabiners, and you're ready to go.
Includes a removable rigid instrument board. Two sizes are available, see the specs below, plus these links: Manual | Specs
SALE - Price reduced!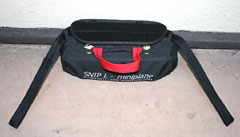 See more Reserve Parachutes in our eBay Store!
| | | | | |
| --- | --- | --- | --- | --- |
| Size: | Max Wt: | Weight: | Price: | Order: |
| 24m | 110 kg. | 1530 gr. | $695 | |
| 30m | 130 kg. | 1850 gr. | $765 | |
Radio Chest Harness
This adjustable Radio Chest Harness will hold your radio securely on your chest where it is accessible during flight.
The radio strap is adjustable for any radio with velcro and there is an upper elastic restraint to keep the radio secure. There is also a convenient pouch that is easily assessed with a velcro closure on the front that can hold your cell phone, energy bars, spare batteries, etc.
Excellent for paragliding, hang gliding, mountain biking, motorcycling, skiing, hiking, or anytime you use your HAM or Family Band radio.
Made of durable materials for years of use.
Price: $59.00

\
Transport Box
The Transport Box is made to carry your Miniplane Paramotor during shipping or transport. It can also carry the pilot's helmet, boots, flight suit and instruments.
Made from solid plasitc (polyethelene), this reusable Transport Box will last for years.
A rubber ring around the the cover protects your motor from dust and humidity. Two versions are available.
Dimensions PSF version:
Length: 100cm
Height: 40cm
Width: 50cm
Weight: 13.5 kg
Dimensions ABM version:
Length: 100cm
Height: 48cm
Width: 50cm
Weight: 14 kg
Please Note: This box will NOT fit the Rigid Cage models.
Price: $325.00 NOT Stocked (4-8 weeks)
Transport Bag with Wheels
semi-rigid bag in tear resistant fabric with cover and zip on 3 sides
rigid bottom
sided with hard removable inserts
2 handles
2 wheels 40mm
Dimensions: 90x54x42 cm
Weight: 6.3 Kg
Please Note: This box will NOT fit the Rigid Cage models.
Price: $395.00 NOT Stocked (4-8 weeks)