Fuel Transport & Transfer Systems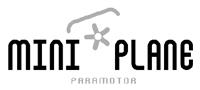 Accu-Mix Fuel Mixing Jug
This is a "must have" item. Easily mix any amount of fluids as needed. No need to measure gallons at a time.
Quickly and easily mix just the amount of fuel you are going to use for this flight! No mess, completely clean!
Used with the Safety Siphon below, this is the cleanest and simplest fuel transfer system available.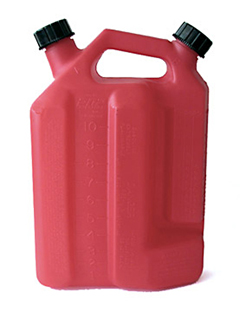 A unique and patented product designed to accurately mix and measure fluids of all types. Unique because it allows employing the 8 commonly used mixing ratios without using any type of messy or hard-to-read auxiliary measuring devices AND it measures fluid by weight, not just volume.

Accu-Mix is a self-contained, 2-compartment measuring and mixing bottle which not only assures consistent accuracy or your mix combination, but also allows the mixing of 10 different quantities eliminating the hassle of mixing excess amounts of pre-mixed concentrates.
No matter what fluids you need to accurately combine or measure, you need an Accu Mix jug. A versatile, sturdy, container for accurately mixing concentrate solutions and measuring fluids in many diverse applications.
Solution Mixture Ratios (scales):
15:1 16:1 20:1 25:1 30:1 32:1 40:1 50:1
MAKES ACCURATE MIXING AS EASY AS 1-2-3! 10 commonly used mixing quantities and the 8 most popular mixing ratios provided at a glance. Meets UN 3H1/Y standard. Not CARB approved.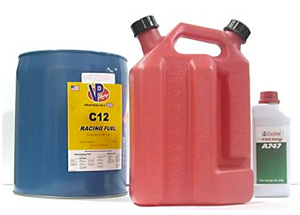 Features:
-Accurately measure fuel by volume AND weight!
-Translucent red color
-Heavy buttress caps along with O-ring to assure leak-proof seal
-Milliliters, liters, ounces and quarts are added for concentrates requiring metric level quantities
-Nominal capacity 1.7 gallons or 6.4 liters
Directions:
1. Fill Side A with required amount of fluid.
2. Fill Side B to corresponding number of side A chart for the required ratio.
3. Secure Both Lids.
4. Shake And Pour!
Accu-Mix Fuel Mixing Jug $29.95

Original Safety Siphon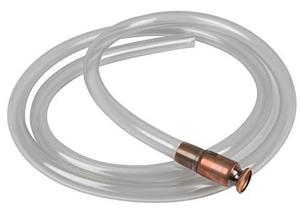 The Original Safety Siphon 1/2" ID Premium 6' siphon has the following features:
Up to 3.5 Gallons per minute flow rate
For General use
Great for transferring from a 5 gallon container into a car, boat, tractor, etc.
100% Pure Lead Free Copper pump with industrial strength glass ball and stainless steel spring
High Quality 100% Virgin Grade PVC Tubing...Good for fuel...FDA sanctioned food grade
100% Made and Manufactured in the U.S.A.
Original Safety Siphon - SALE Price $15 ($29.95 retail)

Miniplane Fuel Jug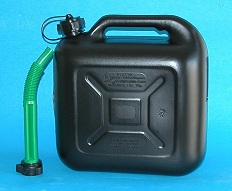 Simple fuel tank for transporting your "joy juice" to the flying site.
Includes filling spout.
10 litre size.
Miniplane Fuel Jug 10L $20