Our Miniplane-USA Stainless Steel Paramotor Tandem Spreader Bar is the best way to do effortless tandems!
Made of sturdy Stainless Steel with double sewn Nylon straps, this tandem bar will withstand years of rigorous use.
Simply attach the rear shackles to the carabiner loops on the harness and you're ready to go!
The passenger has a "shopping cart" style bar that they can push when beginning the inflation run. This makes it easy for them to stay focused on moving forward until you are airborne.
The U-shaped rigid frame keeps the passenger straight in front of the pilot. When using standard tandem spreader bars, these can allow the passenger to move to one side or the other, resulting in a very dangerous situation.
Our Paramotor Tandem Bar includes a Redundant Safety Strap that also attaches the pilot to the passenger. This is a feature made to mitigate the unlikely possibility of a structural failure of the Stainless Steel Bar.
The Paramotor Tandem Bar also includes Stainless Steel Carabiners for the wing attachment and double sewn nylon straps for attaching a standard Paragliding harness to the front passenger position.
The unit is adjustable for different passenger weights by simply moving the hang point for the wing with a Split Shaft Collar using a hex wrench. Always check your balance before going flying with a new pilot or passenger that has a different weight than the previous one. Marks can be made on the bar for different body weights so adjustments can be made easily.
Tandem flights on a Paramotor can only be done with a Certified Tandem Instructor with a Tandem Exemption from the USPPA or ASC. Please respect and preserve our ability to do Tandem Operations by making sure the pilot has the necessary qualifications and certification.
Enjoy the skies together with the Miniplane-USA Paramotor Tandem Bar and a Miniplane Paramotor!
Paramotor Tandem Bar, Stainless Steel
$565






Dimensions
Width: 21"
Length: 36"
Weight: 7 lbs, 11ozs

Assembly Instructions
Replacement Straps available below (replace once evey year or two)



Tandem with TOP 80 Miniplane Paramotor:


PPG Footlaunched Tandem near Santa Teresa, NM:


Paige Flying Tandem (but CG not balanced correctly, pilot can't see over the student. Could be so much better, but still having fun!):


Paramotor Tandem Bar Safety Strap (photo):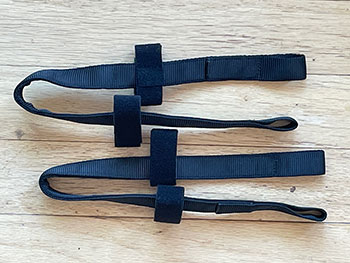 $64/pair Place Order
Hang Straps (photo):
7" for Main Carabiner Attachment
$27/pair Place Order
11" for Passenger Hang Point
$38/pair Place Order