Introducing the PPG Smoke CHASE CAMERA MOUNT
Follow-Cam Mount for excellent Video & Photos!
PPG Smoke's Chase Camera Mount is a unique product dedicated to record awesome videos and photos from a position behind the paragliding/paramotor pilot.
The shape of the shuttlecock used by players of badminton makes an excellent foundation for follow-camera use! This design produces an amazingly stable picture without electronic stabilization. 163g of all up weight with more than 5 pounds of drag makes this work!
The PPG Smoke Chase Camera Mount breaks down and assembles quickly and easily. Add this great tool to your kit to keep you in the shot at all times.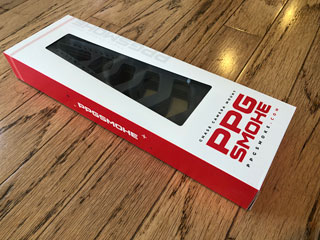 Includes:
GoPro Standard Mount Base

GoPro J Mount Bracket

Surface Mount (flat)

Bridle & Tow Line (to suspend the Camera Mount)

Carabiner (small to attach to wing)
Works with any GoPro camera that has the standard mounting bracket. Other cameras can be used with the flat mount bracket that is included, just use a good adhesive to attach the camera's bracket!
Please note - This listing is for the Chase Camera Mount unit only, no camera is included
Chase Camera Mount

Price: $59


Please note - This listing is for the Chase Camera Mount unit only, no camera is included.

SOLD OUT